7th June 1761
Went wth Mr Hall to Kensington Gravel Pitts Holland house Fox's Esqr Shepards Bush Acton Little Eleing and went to the Earl of Warwicks House Branford Chiswick Devenshiers house and fine Gardens Crossd Kew Bridge to Kew Barn Elmes Rowhampton Putney Wansworth Battersey Nine Elms Lambeth so Home in all the places near 28 miles Spent 18d
Kensington Gravel Pits was famously healthy and clean - now approximately Notting Hill
This picture is a little later
It is by John Linnell and is in the
Tate
collection.
Holland House, sadly bomb damaged since Thomas's day, is in Holland Park. It is a Jacobean house, originally known as Cope's Castle but it passed into the Fox family and belong to Henry Fox when Thomas visited (almost certainly just the house and garden, tipping the housekeeper, not the owner whose portrait is shown below).
This is the nearest to a contemporary picture of Holland House that I can find.
It dates from 1812. And below here is one as it is today (thank you Steve Cadman for permission to use his photo -
Steve
has loads of great photographs of London on Flickr).
I can't find out where the Earl of Warwick's London house was. Thomas's punctuation is so vague that I am not sure whether it was in Brentford ("Branford") or not, but Chiswick House is still there and almost unchanged since Thomas saw it.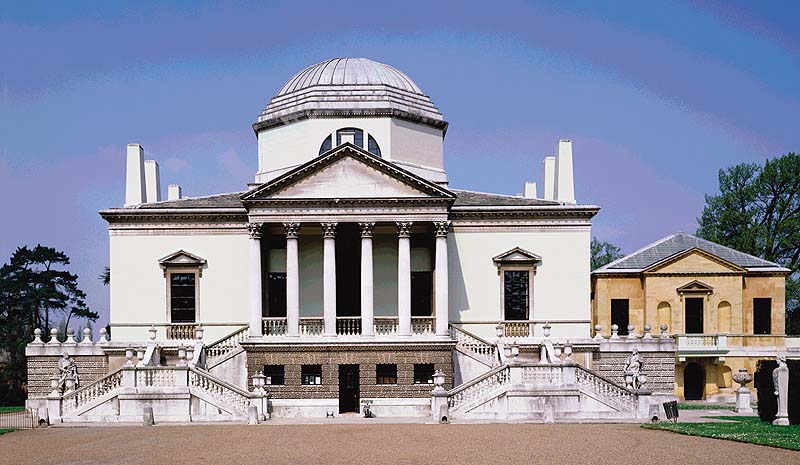 Devonshire House, like Chiswick House, designed by William Kent, was in Piccadilly.
The Duchess at the time was the famous
Georgiana
, subject of a
recent film
. This portrait is by Sir Joshua Reynolds.
Kew Bridge was only completed in 1759. The current bridge is the third on the site. To see the one Thomas crossed and to read more about the history of the bridge click
here
.
Barn Elms
is North of Barnes Common, named after a Georgian house which once stood there. The famous
Kit-Kat Club
met there and there is more history and a picture of the house
here
.
And finally Thomas goes "home" but he doesn't tell us where that is, which is infuriating!